Magsasaka at Siyentipiko para sa Pag-unlad ng Agrikultura, Inc. (MASIPAG, Inc.)
2013
Since its founding in 1968 up until now MASIPAG has exemplified its "strong passion and bias for the small and resource-poor farmers, to improve their quality of life the sustainable way, through farmers' control and sustainable use of genetic and biological resources, agricultural production and associated knowledge."
A farmer-led network of people's organizations, non-government organizations and scientists, MASIPAG, Inc. (Magsasaka at Siyentipiko para sa Pag-unlad ng Agrikultura, Inc.) has strengthened the credence of peasants and their organizations in confronting the challenges that threaten their rights and means of support. The network has demonstrated how peasants can innovate and manage farming systems and biodiversity conservation to suit to their specific local community and farm needs and conditions.
Furthermore, MASIPAG's programs and strategies that empower farmers and their organizations to seek sustainable solutions to their problems in farming ultimately aims for genuine sustainable rural development in the country .
"People first before Profit" in contrast to big corporations' interest, is one important philosophy of MASIPAG which differentiate it from other market-led and export-oriented organic agriculture groups in the country. MASIPAG believes that agro-biodiversity is a vital resource in sustainable rural development and should be conserved and managed by the farmers themselves. It believes that once biodiversity is lost, local and indigenous culture is also forgotten and lost.
After 25 years, MASIPAG has grown not just a small biodiversity conservation project but as a social movement of 5 1 8 farmers organizations, 47 church-based groups, 33 non-government organizations and 15 scientist-partners. It has built partnership with 20 local government organizations pushing for organic agriculture and banning GMOs in their respective areas of jurisdiction. MASIPAG is also an active member of the International Federation of Organic Agriculture Movement (IFOAM).
With its remarkable track record in practical work in sustainable organic agriculture at the farmers' fields, MASIPAG is highly regarded as leader among SA advocates in the country. To cite, MASIPAG was nominated by other organizations and finally selected as the lone NGO – representative to the National Organic Agriculture Board (NOAB), the policy making body of National Organic Agriculture Program NOAP with the passage of the Organic Agriculture Act in 2010.
One of the greatest challenges and tests of MASIPAG's dedication to the protection of farmers' rights and the natural agro-biodiversity came about upon the commercialization of GMOs in the country. In 2002, the national government allowed the commercial release of Genetically Modified Corn (Bt Corn) through the Department of Agriculture Administrative Order #8. This regulation was a huge seed market opportunity f or transnational corporations like Monsanto but posed grave negative impacts to peasants and the agriculture sector. GMO corn seeds were circulated in the rural areas through the local capitalist-traders, and farmers still buying corn seeds cannot find any seed available except for GM corn. The spread of GM corn and its contamination to non-GMO corn fields was never controlled and monitored by the government's appropriate agency. The issue of GMOs became more widespread with the open field testing of the Bt eggplant and the Golden Rice (Vitamin A-enriched genetically modified rice) in 2011 and 2012.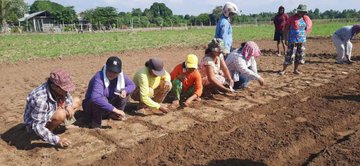 In the face this extensive problem and powerful opponents, MASIPAG was steadfast in pursuing its campaign to protect farmers' rights to freely save, exchange and propagate their seeds, and to disseminate technologies which are sustainable and controlled by farmers themselves.
MASIPAG maintained its ground at the farmers' fields by organizing series of education and information dissemination campaigns, through public forums, symposia, conferences involving all affected sectors: farmers, development workers from NGOs, churches, academes, and consumers. It circulated educational information through press releases and appearances in televisions and broadcast media to reach out to a wider audience.
In addition to its massive educational campaign, MASIPAG held lobbying activities with to local government units and progressive party-lists and representatives at the House of Representatives and some senators. As a result, 4 field trial sites for Bt egglant field testing (2 in Mindanao and 2 in Visayas) were put to a stop.
MASIPAG's sincerity in its advocacy and bias for the protection of small and resource-poor farmers' rights was further demonstrated when it conducted an impact study in 2012 on the socio-economic lives of those farmers who cultivate GM corn ten (10) years after this first GM crop was commercialized in 2002. The network is also one of the petitioners in the filing of the Writ of Kalikasan on what and which was favorably supported by the Court of Appeals just recently in May 2013.
The network was critical to other ineffective agencies and participated in other major campaigns such as in 2010 when MASIPAG also challenged the 50-years of existence of the International Rice Research Institute (IRRI) in the Philippines for the 50-long years of deeper impoverishment of small farmers. With other advocates against agro-transnational corporations, a series of public education activities and protests in front of IRRI were organized to push for its dismantling in the Philippines.
On top of the long-term impacts and changes they are aiming to convey, MASIPAG continue to directly transform and improve the lives and practice of small and resource-poor farmers. The network collects and maintains species and varieties which are freely accessed by the small farmers through their on-field seed banks. They disseminate sustainable farming innovations to farmers' organizations and their members to improve their farming system.
Based on the results of external impact evaluation of MASIPAG program in 2007, more than a thousand households of MASIPAG farmer-practitioners have significantly reduced their farm production costs, improved their income, have realized the importance of safe and nutritious food for the family and are now consuming organically produced food on their tables.
>